Do you need custom postage for a special occasion?
We can create monograms, names, engagement, new baby announcements and more.
Whatever you need, we can design for your perfect postage stamps. Just contact us to get started.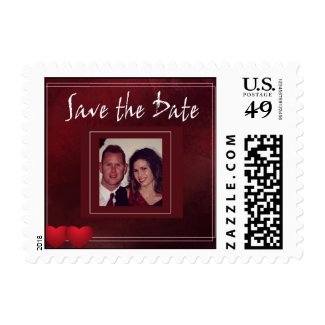 Shelby and Mike wanted to incorporate their engagement photo in their Save the Date mailings. We used the same picture from the save the date card for the postage design. Shelby also loves hearts so we had to add those two little hearts on the bottom.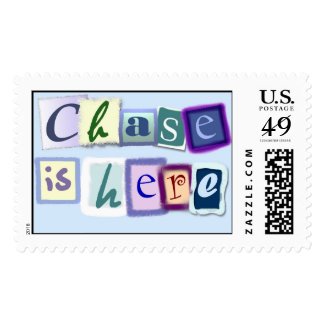 Chase's mom, a scrapbook queen, came up with this idea. She wanted a baby block design that she could use for the baby announcements and also used a few in his scrapbook page. (Chase will always remember what postage cost when he was born.)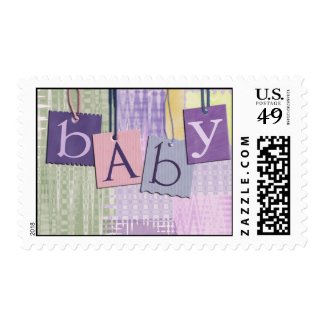 Gretchen from Iowa was throwing a baby shower for her sister and wanted a pastel design for her invitations. She told me her sister loves to quilt. She used this design for both the postcard invitation and postage.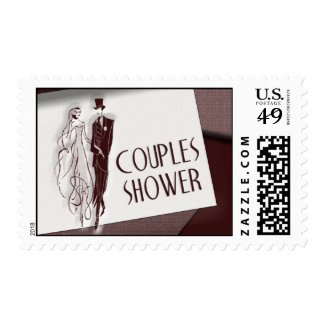 Robin and Steve had a vintage theme going for their friend's wedding shower. They wanted a design to match - and wanted to make sure everyone knew it was a couples shower. We sent a few ideas and she chose this one for her shower invitations.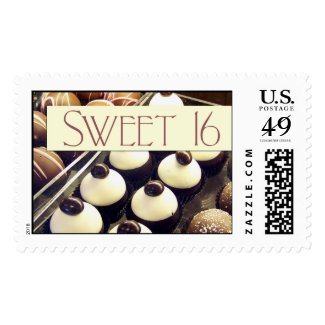 Aiden's dad asked for a "sweet 16" design that incorporated Aiden's favorite passion: chocolate. The result - a stamp that even Emeril would love.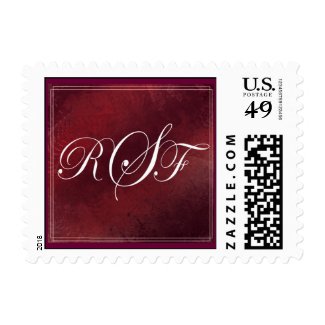 Rhonda's first email asked "What do you have for a formal monogram with a dark red color?" After we finalized the initials, color and font, Rhonda loved the result. She also asked us to put the design on note cards for her.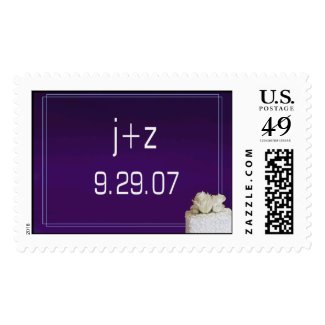 Zarah knew exactly what she wanted - down to the color and font. It took us roughly 10 minutes from her first email to the time it was ready for purchase. About 10 days later, she had her stamps in hand.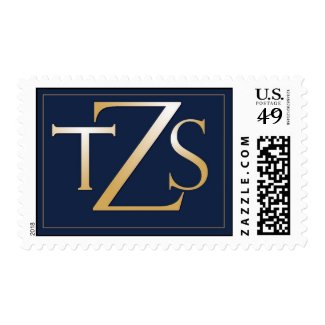 Thomas was graduating from Law School and his girlfriend asked for a "classic look" monogram that she could surprise him with at his party. Evidently, Thomas has his monogram on absolutely everything ... now even his own postage stamps.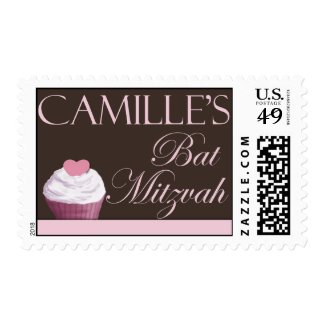 Camille's Bat Mitzvah colors were chocolate brown and pink. Camille also has a sweet tooth for cupcakes. Those ideas came together for this fun Bat Mitzvah design.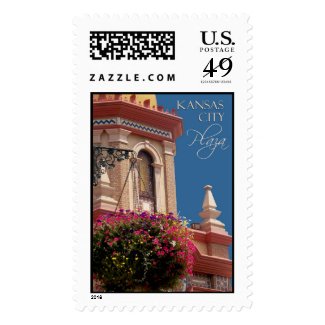 Every spring, the plaza in Kansas City, Missouri comes to full bloom with gorgeous overflowing flower baskets. One of the Plaza tenants used this photo for his business reception party for his high profile clients. He later told me that several guests were indeed impressed that he pays attention to even the smallest detail.
Want your own design? Just contact us or create your own.
Create Your Own
What Our Clients Say
"I love it! They are perfect. Thank you!"
Lori, NH (read more)
Request a Custom Design
We'll make it - just for you!