Frequently Asked Questions
Looking for information about international postage? Click here!
Q: Are these really able to be mailed?
A: YES! These designs are for custom postage that can be sent via US mail. Your envelopes will not only get delivered, they'll get noticed with your custom postage.
---
Q: Can we add our photo to our wedding stamps?
A: YES, simply email us your photo and whatever else you would like and we can customize a design just for you. Or click the postage to create your own: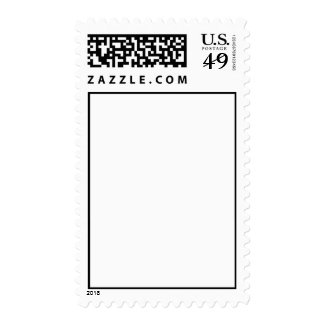 ---
Q: How do I personalize my postage with the designs shown here?
A: When you select one of the designs, it will open in a new window at Zazzle, the company who makes and distributes your custom postage. There is information on the site about how to add name, date or other personalization. A variety of font styles and colors are available.
---
Q: What sizes are available?
A:

To see what these will look like on a various sizes of envelopes, check this link from Zazzle (opens in new window).
---
Q: How much do these cost?
A: The total cost of your order will depend on the postage value and the number of sheets you order. When you view the stamp, the price per sheet will display. The minimum order is one sheet. (Each sheet holds 20 stamps.)
---
Q: What are the postage denominations that are available?
A: The current postage rates are available as shown below:
$0.35 Postcards

$0.50 First Class, 1 oz.

$0.71 First Class, 1 oz odd or 2 oz

$0.92 First Class, 2 oz odd or 3 oz

$1.00 First Class Large Envelope, 1 oz.

$1.13 First Class 3 oz. odd

$1.21 First Class Large Envelope, 2 oz.

$1.42 First Class, Large Envelope, 3 oz.

$1.63 First Class 4 oz.

$1.84 First Class Large Envelope, 5 oz

$2.05 First Class Large Envelope, 6 oz

$6.70 Priority Mail

---
Q: How do I change the value / denomination of the stamp?
A: Once you select the stamp, choose the rate from the drop down box to the right of the stamp. Your new value will show on the stamp as in the example below.

---
Q: What is the minimum number of stamps I have to buy?
A: The minimum order is 1 SHEET- 20 stamps. Many brides who can't afford custom postage for all their invites purchase one or two sheets for the bridal party invitations and wedding scrapbook keepsakes.
If you purchase more than one sheet of wedding stamps, you do get a discount per sheet.
---
Q: How much are shipping charges?
A: For updated shipping information, check Zazzle Shipping & Returns.
---
Q: If I want a custom design, how does that work?
A: Here's what you do. Just contact us and tell us a few details you want ... colors, initials, whatever you like and we'll send you a proof to review - no charge for our designs. Once you're satisfied with the design, we'll post it to Zazzle for you to purchase and send you a link.
---
Q: How long does it take to get the postage stamps?
A: Generally, about 7 to 10 working days. For custom postage, allow about 3 to 4 more days for the design and approval by Zazzle. Express shipping is available for additional charges.
---
Q: Can you add our... monogram / date / flowers / colors ?
A: Yes, yes, yes and yes. Just send us what you would like and we'll be happy to accommodate. We have an entire line of beautiful monogram postage you can customize with your initials with just one click. Read what some of our clients have to say about Perfect Postage designs and turnaround time.
---
Q: Whose initial comes first on a wedding monogram?
A: The bride's initial comes first, followed by the last name initial and then the groom's. See samples of custom wedding monograms for some design ideas.
---
Q: Will the Post Office "hand cancel" the stamp to avoid the marks?
A: You'll need to ask your local post office. Most will do this for you or allow you to cancel it. Call several in your area to see what their policies are.
---
Q: When will postage rates increase?
A: The postage increased in January of 2017; the next increase has not yet been announced.
---
Q: How much will it cost to mail my invitations?
A: Your best bet is to take your invitations to the Post Office to have them weighed to make sure of the postage price. If you know the weight, you can also get an estimate using the USPS Calculator. Even with the calculator, it's still adviseable to take it to the Post Office for an official weight.
---
Q: My envelope is square size / has a clasp ... do these require extra postage?
A: Yes - these envelopes are considered nonmachinable and are subject to a surcharge.
See below for the dimensions from the USPS for letter size envelopes. This also includes information on what other envelopes are considered "nonmachinable".
---
Q: Do you design for custom postage for other countries?
A: YES. We can provide a design for wedding postage for the UK, Canada, and Australia. See the international postage page for more information on the custom stamp examples and programs from other countries.
---
Q: Do you provide samples?
A: We do not offer samples or proofs of our products, but please rest assured that any purchase you make from Zazzle.com is backed by a 100% satisfaction guarantee. You may return your Zazzle products (in unused condition) within 30 days of purchase for a replacement or refund.
No order is too small in size, so feel free to make a small initial purchase before committing to a larger order. As we are a print-on-demand service, most of our offerings may be purchased in quantities as low as a single product!
For wedding invitations, you can view samples of the papers here.
---
Q: When should we order our custom postage?
A: You should order your postage a few weeks before you intend to mail. Expedited shipping is available (see above) if needed.
---
Q: What fonts are available with the Zazzle customization?
A: Here is a list of the fonts available from Zazzle with the customization. If you would like Perfect Postage to customize your postage, we can pretty much match any font style you like.
---
Q: Do you have advice on addressing envelopes / wording for invites?
A: A great resource for invitation wording is: verseit.com.
---
Q: What are the current promotions / sale items?
A: See the Zazzle coupon page for sale items right now!
---
Q: Are the stamps self-adhesive?
A: Yes - your custom stamps will come in sheets of 20 - just peel and stick.
---
Q: I'm a wedding planner - what are the best selling postage designs to show to my clients?
A: We've compiled a list of the top ten wedding postage stamps.
---
Q: Do you accept bitcoin for custom designs?
A: Yes, we do!
---
Still have more questions? Just contact us!
Navigate
What Our Clients Say
"You nailed it. That's what I wanted."
Zarah, NV (read more)
Request a Custom Design
We'll make it - just for you!