FREE Wedding Blog Article!
Just copy, paste, edit and use for your own website or blog!
Top Ten Wedding Postage Stamps
1. The number one best selling wedding stamp on Perfect Postage is the personalized wedding photo stamp!
And why not? Once you have hundreds of beautiful wedding or engagement photos, you may as well dress up your envelope with a photo of the happy couple.
It certainly makes an impression - and will look perfect in your wedding keepsake album for years to come!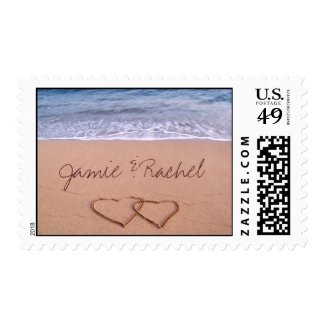 2. Love on the Beach
Coming in at the # 2 best selling stamp is "love on the beach" with two hearts. This photo was taken from the North Shore at Oahu, Hawaii. We drew the hearts carefully with a stick, stepped back and waited for the waves to come.
Couples can personalize their names to look as if they were written in the sand.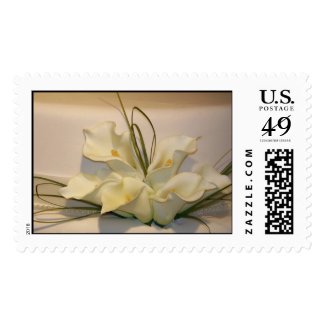 3. Wedding Cake with Calla lilies
This postage stamp has been very popular with both spring and summer brides. This is actually a close up of a wedding cake with beautiful calla lily and beaded decor. The photo was taken at a bridal show featuring hundreds of unbelievable wedding cakes.
This looks stunning on both light and darker envelopes.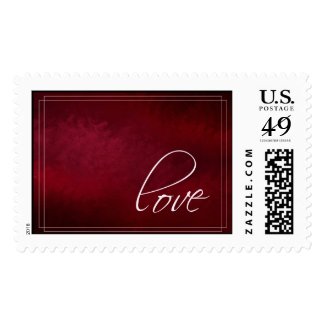 4. Simply Love
Coming in at number 4 on our list of best selling wedding postage stamps is a very simple stamp with a very simple message: love.
With this simple white script font and dramatic dark red background, this has proven to be a great design for many wedding couples.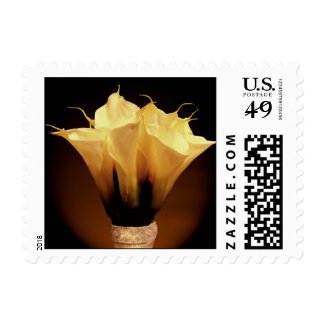 5. Calla Lillies in a beaded vase.
This small size postage stamp makes a bold statement on wedding envelopes. The lovely golden callas in a white beaded vase just look stunning.
The photo was from the NY Grand Palace hotel during a "bridal extravaganza". They have been popular wedding stamps all year long.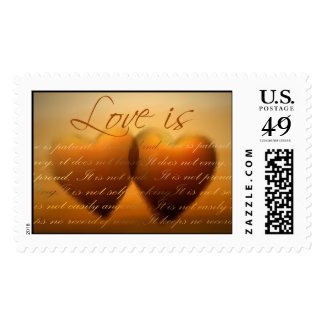 6. Love is ...
Inspired by the lovely wedding passage from Corinthians, "Love is patient; love is kind," these two golden wedding hearts have long been one of our best sellers.
The message - and the graphic - are beautiful representations of the bond between husband and wife.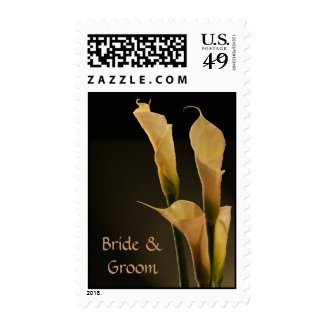 7. More Calla Lillies!
These tall slender callas against a dark green background are easy to customize with the bride and grooms name. The vertical design works well for many envelopes and looks fabulous on a cream or ivory envelope.
If calla lilies are your wedding flowers, these stunning callas will really make your wedding invitation pop. Beautiful imagery for a "perfect postage" stamp for your wedding invitations.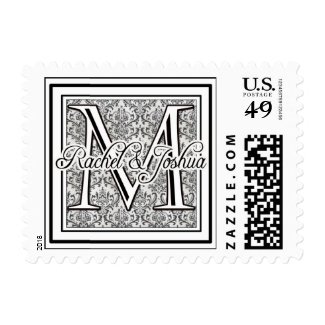 8. Custom Monogram / Wedding Logos
Personalized logos or monograms to the bride and groom's wishes - here's just one example we did for Rachel & Joshua. With inspiration and ideas from the couple, we can create a design that fits them perfectly.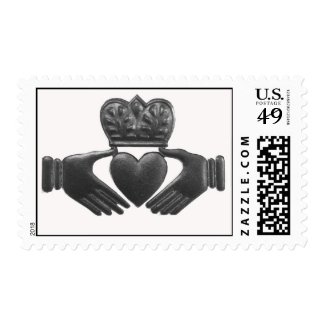 9. Irish Claddagh Wedding Postage
Irish Brides-to-be love the famous Irish Claddagh symbolizing love, loyalty and friendship. This postage stamp has proven to be very popular - so much so it remains in our top 10 this year!
This design can also accomodate the couple's name or wedding date on the bottom. Although the pewter / silver wedding postage stamp has been among our best sellers, we also have this same design in gold for those with gold as their wedding color.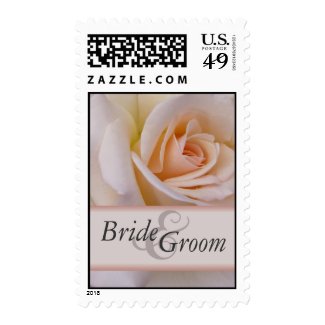 10. Perfectly Peach Rose!
This gorgeous photo was taken from the Powell Gardens - one of the most beautiful rose gardens overflowing with white, red, pink, cream and yellow roses.
With the pink accent bar and dark charcoal gray text, the wedding postage certainly will accent any bride and groom's invitation.
If roses are in your wedding theme, this is one in the beautiful rose collection of postage stamps available from Perfect Postage.
At Perfect Postage, we love designing wedding postage stamps to make your wedding invitations look perfect. All postage stamps can have matching RSVP, Monogram, Thank You or other wording to pull together all of the details of your weddng mailings.
Take a minute to browse our wedding postage collections: flower stamps, beach stamps, monogram stamps, love stamps, and so much more!

Contact us to get started on a personalized postage design!
Copy, paste and edit for your own blog!
Navigate
What Our Clients Say
"Thanks they are perfect!"
Linda, TX (read more)
Request a Custom Design
We'll make it - just for you!