Happy Halloween Postage Stamps
Nightmare Before Christmas Postage
Jack & Sally hold hands under the moonlight in an iconic scene from Tim Burton's "The Nightmare Before Christmas". This Disney Halloween stamp is popular with many non-traditional couples, as it represents a loving and non-traditional couple.
The burtonesque swirls with Jack and Sally against a soft romantic moonlit background ... "for it is plain, as anyone can see: we're simply meant to be."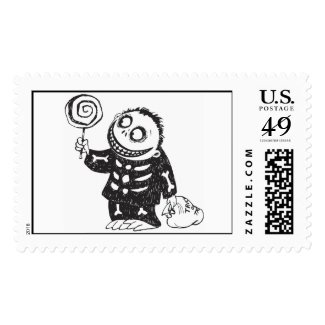 Touchstone, in skeleton costume, from Tim Burton's "The Nightmare Before Christmas", holds up a big swirly lollipop with a cheeky, creepy grin on his face, dragging a "Trick or Treat" bag behind him, in this Halloween postage stamp. The perfect representative for all the ghoulish little children trick or treating on Halloween!
Lock, Shock and Barrel, the young Halloween hooligans from Tim Burton's "The Nightmare Before Christmas", hold up a giant Trick or Treat bag, marauding around as a witch, skeleton and devil. Perfect postage for your nightmarish Halloween mailings!
Ghoulish, Gothic Love Postage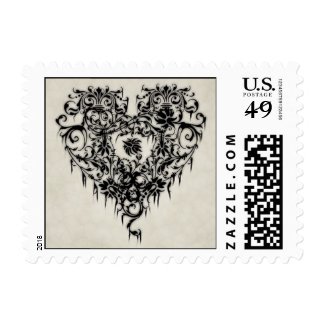 Dark Lacy Heart Postage Stamp by oph3lia - This intricate black and cream heart design with sharp embellishments form an unusual - yet compelling - wedding design.
Beautiful and haunting. Spooky - but sweet. Our top favorite Gothic Wedding Postage stamp.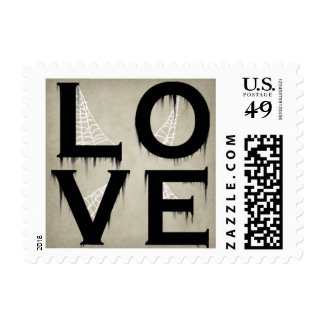 Halloween Style Love Postage Stamps by oph3lia - We love the spiderwebs dripping from these otherwise simple LOVE letters in this deliciously spooky black and gray postage stamp.
In this postage, love has lasted a lifetime - and longer. Literally.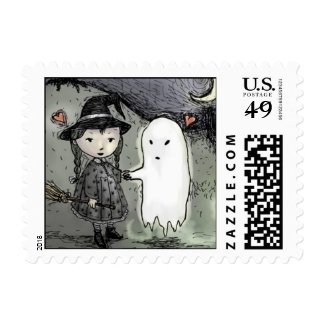 Halloween Postage Stamps by oph3lia - Who makes a better couple than a witch and a ghost? Hearts fly between a young witch and ghost in these cute and spooky stamps.
This Halloween postage is perfect for the couple who ties the knot on October 31. You know who you are.
Find hundreds more Halloween postage stamps ... contact me if you need design help!
Holiday Postage
Christmas Postage
Christmas Cards & More
Valentine's Day
More Holidays
What Our Clients Say
"I just wanted to let you know that I received the postage and it looks great! Thank you so much!!"
Jodi, FL (read more)
Request a Custom Design
We'll make it - just for you!