Pet Photo Postage Templates
New puppy in the house? Let your family and friends know with this fun new pet photo postcard template. Add your new puppy's photo to a postage stamp with this fun pet photo template stamp.
Easy to customize! - To customize with your own pet's photo, just click the stamp or card, (prices will display) and then choose "customize" and upload your own pet's photo. Quick, easy and too cute!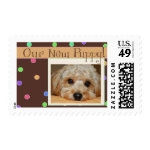 We would like to feature your pet on our website!
We'd love to have your dog, cat, bird or other pet listed on our "favorite pet" postage page!
Just send your pet's photo, pet's name and any other information you would like to info@perfectpostage.com and we'll create a design just for you!
Just look at this adorably shih tzu puppy. Imagine how cute your own dog's photo would be on their very own personalized pet photo stamp!
This cute Angel Face dog is by kforster. Angel face is a maltese / shih tzu mix breed puppy.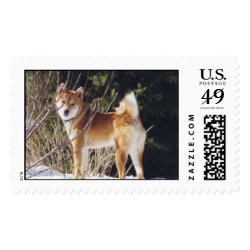 Shiba Inu postage stamp from CJ!
Wonderful "Cobe" ... the Shiba Inu that brings so much joy. Cobe makes a great model for Perfect Postage.
Inu is the Japanese word for dog. The word shiba usually refers to a type of red shrub. This leads some to believe that the Shiba was named with this in mind, either because the dogs were used to hunt in wild shrubs, or because the most common color of the Shiba Inu is a red color similar to that of the shrubs. However, in old Japanese, the word shiba also had the meaning of "small", thus this might be a reference to the dog's small size. Therefore, the Shiba Inu is sometimes translated as "Little Brushwood Dog".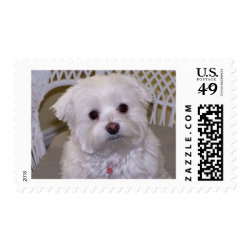 Cutest dog on earth!
Baby the Dog is one of the cutest dogs we've ever seen. We found baby tweeting which led us to the 4 The Love Of Animals blog - celebrating the bond between people and animals. They are always looking for a great pet story to share or rescue groups that need some help spreading the word about their work.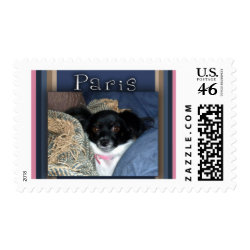 Papillon Paris!
Kiele submitted this photo and asked us to add Paris's (her papillon) name above in a fun French font.
Paris looks too cute perched in her favorite chair with her blanket. Thanks Kiele for the photo!
The Papillon (French for "butterfly") is a small, friendly, elegant breed of dog of the Spaniel type, distinguished from other breeds by its large butterfly-like ears.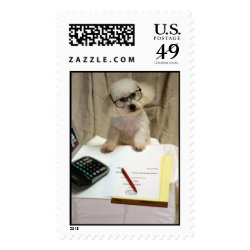 Beau, a Bichon Frise, is hard at work (by mikeledray).
Wish your fellow office workers were this cute? This humorous dog postage is perfect for you!
Just look at all the gift items you can customize with your pet's photo and name. Simply send your pet photo to info@perfectpostage.com and we'll create a design for a variety of gifts including: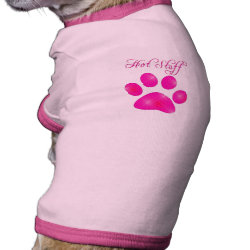 Postage
Cards
Stickers
Notecards
Bumper Stickers
Rompers
Doggy T Shirts
Magnets
Ties
Skateboards
Tennis Shoes
Coffee Mugs
...or Create Your Own!
More Postage
Custom Postage
Anniversary Postage
Graduation
Pet Designs
Family Recipe Binder
What Our Clients Say
"@perfectpostage My customized holiday stamps came today .. Love them ! Whhooo hooo !"
Andrinique Events (read more)
Request a Custom Design
We'll make it - just for you!