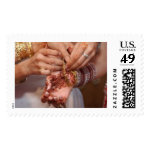 Indian wedding ceremony capturing a Sikh tradition: A string is tied around the wrist as a good omen.
If there is something special we can create just for you, let us know. Whether you're looking for an ornate Indian designs with bursts of color or a simple elegant look, we hope you can find something perfect just for you.
Just click on the item for pricing and shipping.
Indian Postage Stamps & More
Wedding Postage
Monograms
Months
Themes
Nationalities
Wedding-Related
Invitations, Apparel & More!
What Our Clients Say
"I got the stamps yesterday and they really came out beautiful. I can't wait to send them out!"
Lisa, KS (read more)
Request a Custom Design
We'll make it - just for you!