Irish Weddings
Irish Claddagh: in Gold and Silver




These Claddagh designs are front and center since they are so popular! Choose from gold and silver in an array of products... postage, magnets, buttons and stickers!



Irish & Ireland Inspired Postage Stamps
Celtic Knots
Ireland Inspired Monograms



Beautiful script monogram initials against green or cream backgrounds, would make for the perfect Irish inspired wedding monogram stamps!
See more monogram postage designs!
Matching Irish Stationery & Postage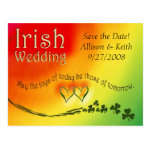 More Irish Designs!



Add just the right Irish touch with a green shamrock! A shamrock button, Bride and Groom shamrock hats, and a shamrock Groom's tie will all add Irish falvor to your wedding!



Ribbons stream from shamrocks in this charming and elegant Irish design! Get it on custom wedding stickers, mugs, "Bride" & "Groom" buttons, and even on a tie!
Wedding Postage
Monograms
Months
Themes
Nationalities
Wedding-Related
Invitations, Apparel & More!
What Our Clients Say
"My custom stamps and RSVP postage came out fabulous! Thank you so much."
Jaimie, RI (read more)
Request a Custom Design
We'll make it - just for you!